KNOW HOW FLIXONASE® WORKS
FLIXONASE® Allergy & Hayfever Relief targets 6 key allergic substances. Allergy tablets only target 1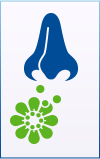 WHAT CAUSES OUR SYMPTOMS
Learn the most common allergens, and how your immune system reacts.
For those experiencing seasonal hayfever or perennial hayfever, the good news is that FLIXONASE can help. Learn more here about hayfever symptoms

Flixonase contains fluticasone propionate. ALWAYS READ THE LABEL. Use only as directed. For the treatment and prevention of allergic rhinitis. If symptoms persist, see your healthcare professional.
1. Australian Medicines Handbook 2016, AMH Pty Ltd; Adelaide.
2. Bousquet J et al. Allergy 2008;63(Suppl 86):8–160.
3. Wallace DV et al. J Allergy Clin Immunol 2008;122:S1–84.
4. Bachert, C. and Geveart, P. Effect of Intranasal Corticosteroids on Release of Cytokines and Inflammatory Mediators. Allergy: European Journal of Allergy and Clinical Immunology, Supplement. 54(57): 116-123, 1999.
5. Wiseman, L. R. and Benfield, P. Intranasal Fluticasone Propionate. A Reappraisal of its Pharmacology and Clinical Efficacy in the Treatment of Rhinitis. Drugs. 53(5):885-907, 1997.